Target Audience: BBP Training is required for those who work with human blood or bodily fluids; unfixed tissues or organs other than intact skin from a human; cell, tissue, or organ cultures or medium, or animal or human cell lines that have not been documented with the EHS Office as free from contamination of human hepatitis viruses, HIV and other recognized bloodborne pathogens. It is the responsibility of each Laboratory Director to ensure that his/her laboratory personnel attend Bloodborne Pathogen Training. This includes, but is not limited to, Faculty, Graduate Students, Undergraduate Students, Staff, and Visitors.
Training Requirements: Initial training must be completed prior to any work in a lab that may expose a worker to Bloodborne Pathogens. Bloodborne Pathogens training is required annually.
Online Training - CITI
BBP training is on the CITI Training platform. A Pitt User account is not required to access Pitt CITI-based training, but all users are required to have an HSConnect account. 
Go to training on PItt's CITI Access Portal   ►
New to CITI training? Review this helpful instruction guide.
Trouble locating the CITI BBP Course? Try the steps below on the CITI site:
Click the" View Courses" button for the University of Pittsburgh.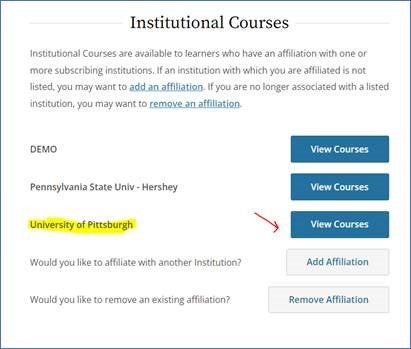 Click on the "Learner Tools" link (or scroll to the bottom).
 
Click "Add a Course".
 
Answer the onboarding questions and proceed to the list of courses.
 
Courses are organized by Human Research, Animal Research, and Other Courses. BBP training can be found under "Other" at the bottom of the page.
 
Check the box for Bloodborne Pathogen
 
Click the Next button and you will be enrolled in the course. 
 
It will be added as a training under listed under "Courses Ready to Begin". Click the Bloodborne Pathogens training link to start the module.
In-Person Training Sessions
View the live session training schedule for upcoming dates and times.
EH&S In-Person Training Calendar  ►